This tutorial explains how to upgrade to Ubuntu 12.04 using a CD or DVD – this is often the preferred method  if you have a lot of computers to upgrade or if you need to upgrade to Ubuntu 12.04 without a network or Internet connection.
The process is virtually identical to installing Ubuntu however during the process you will be given the option to upgrade depending on the version installed it will either say "Upgrade Ubuntu 10.04 to 12.04 LTS" or "Upgrade Ubuntu 11.04 to 12.04 LTS" the installer all automatically detect the version currently installed on your hard drive.
Here is an image of the upgrade option in the Ubuntu installer: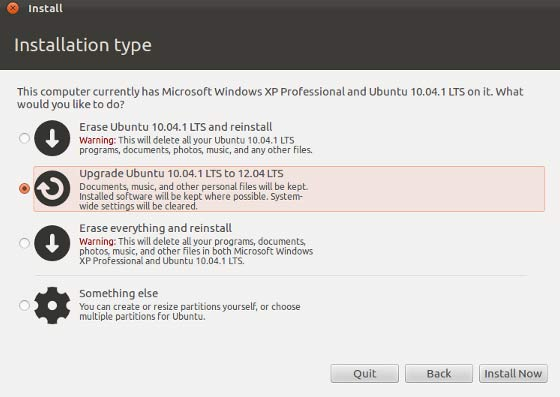 As mentioned above the process the same of 11.10 only the installer will say upgrade ubuntu 11.10 to ubuntu 12.04.
How To Upgrade Ubuntu 12.04 from CD or DVD Step by Step Tutorial
Below is the step by step guide for the upgrade procedure for 11.10 and LTS to LTS.
Download Ubuntu 12.04 (fast direct link mirrors)

Burn the ISO to CD or DVD

Insert the CD or DVD into the drive and select your PC or laptop to boot from CDROM

When prompted click "Install Ubuntu"

Next you are give the option to "Download updates while installing" if you have a working internet connection select this method if don't have access to the Internet un tick the box. (If in doubt un tick the box you can always install updates later). You are also given the option to install 3rd party software, leave this un ticked for now unless you have something specific you know needs installing

Select "Upgrade from 11.10 to Ubuntu 12.04" (or 10.04 LTS) see the screen shot above

Enter the same username and password you currently use

Click Continue

After the upgrade completed click "Restart Now"
Your home directory and the majority of your settings should be the same as before, if you have any issue with your 12.04 upgrade please post a comment below and I and other members of the community will do my best to help you.